2 Serial ports to Ethernet Device Server with Modbus



Click to enlarge

| | |
| --- | --- |
| Price: | $62.00 |
| Availability: | In Stock |
| Model: | USR-N520 |
| Manufacturer: | USR IOT |
| Average Rating: | Not Rated |




Buy it now

include $25 shipping cost.
Unique Features
1. Modbus gateway, Modbus poll
2. Network printer function
3. ESD and Surge protection, watchdog mechanism
Serial Device Server Introduction
USR-N520 is a double serial device server, which can realize transparent transmission between TCP/UDP data package and RS232/RS485/RS422 interface. The device has unique functions such as network printing, Modbus multi-host polling and watchdog mechanism. USR-N520 is based on ARM processor and it is internally integrated with TCP/IP protocol.User can easily realize embedded device networking.
Serial Device Server Features
TI Cortex-M4 solution, ARM processor and TCP/IP protocol stack
Reload button,one key to restore factory defaults
Multiple indicator LEDs for easy debugging
DNS, DHCP, Websocket and HTTPD Client supported
Keepalive function,rapidly detect dead links
Built-in webpage, support customized
Can upgrade firmware via network easily
Account and password to page login and network settings
Support UDP broadcast,send and receive data from all IP in LAN
Global unique MAC address bought from IEEE, can be defined
Virtual serial port, setup and test software is availiable
Provide PC TCP/IP SOCKET programming example: VB, C++, Delphi, Android, IOS
Serial Device Server Parameter
RJ45 Port
Number
1
Standard
4 pin RJ45
Speed rate
10/100Mbps, MDI/MDIX
Protection
2KV electromagnetic isolation
Protocal
IP, TCP, UDP, DHCP, DNS, HTTP, ARP, ICMP, Websocket, HTTPD Client
Buffer
TX: 16K byte, RX: 16K bytes
COM Port
Number
RS232/RS485/RS485 * 2, choose one to use
Standard
RS232: DB9 male connector, RS485: A+ B-, RS422: (A, B, Y, Z)
Baud rate
600-230.4K bps
Data bit
5, 6, 7, 8
Parity bit
None, Odd, Even, Space, Mark
Stop bit
1, 2
Buffer
TX: 2K byte, RT: 2K byte
Flow control
RTS/CTS, Xon/Xoff
RS485 resistor
2.2K Ω
Protection
ESD 2KV, lighting, surge
Power Input
Voltage
5-36 V
Type
DC jacker and + - terminal
Working current
53mA (average) @12 V
Protection
ESD, surge, reversed connect
Working Environment
Working tempreture
-40 - 85 °C
Storage tempreture
-40 - 105 °C
Storage humidity
5% - 95% (no condensation)
Dimensions
150*79*30 mm, without terminal
Certification
CE, FCC, ROHS, WEEE, KCC
Download files
USR-N520
Serial Device Server Application Sample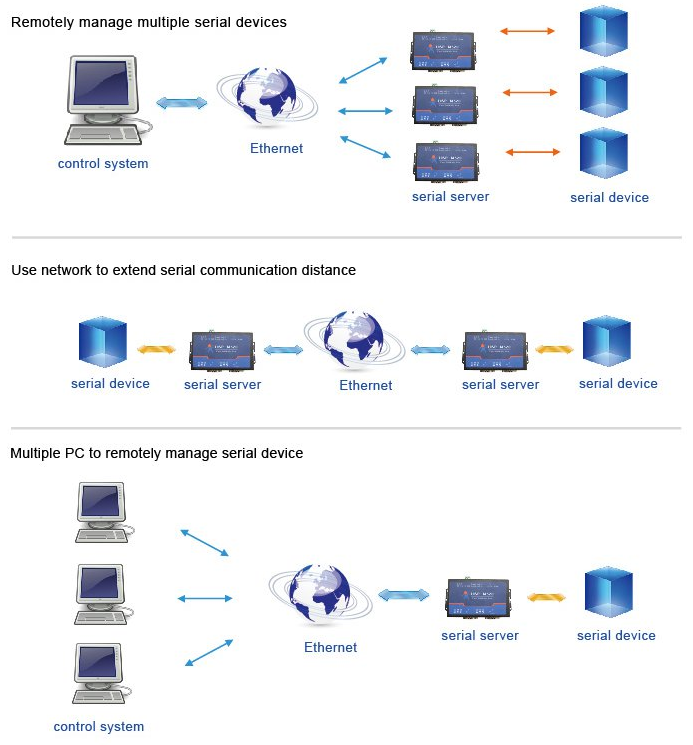 Packing List
Serial Device Server * 1
RS232 to RS485/RS422 converter *2
Power adapter * 1
Serial cable * 1
System Information
Processor
Cortex-M4
Basic Frequency
120MHz
Flash
512K byte
Ethernet
Port Number
1
Interface Standard
RJ45
Rate
10/100 Mbps MDI/MDIX, auto switch between cross and direct connection
Protection
2KV electromagnetism isolation, shell insulation blocking
Network Protocol
IP, TCP, UDP, DHCP, DNS, HTTP, ARP, ICMP, Websocket, HTTPD Client
Receive Buffer
Max 16k bytes buffer
Serial
Port Number
2 (RS232/485/422*2), 2 serial ports can simultaneously work at the different working modes.
Interface Standard

RS-232: TX/RX/RTS/CTS

RS-485: A+/B-

RS422: TX+/TX-/RX+/RX-

Data Bits
5, 6, 7, 8
Stop Bit
1, 2
Check Bit
None, Even, Odd, Space, Mark
Baud Rate
600 bps ~ 230K bps
Flow Control
RTS/CTS/Xon/Xoff
Buffer
Send and receive 2k bytes respectively
Protection
ESD protection, anti-surge
SocketA
Transparent Transmission Mode
TCP Server/TCP Client/UDP Server/UDP Client
Supported Function
Networking printing, Modbus Gateway, USR-Cloud, self-defined registration package, self-defined network and serial heartbeat package
SocketB
TCP Client/UDP Client
Software
Virtual Serial(USR-VCOM)
Windows 2000 or higher (32 bit/64 bit)
Configuration
Built-in webpage, computer set-up software, serial command
Basic Parameter
Size
150 x 79 x 30 mm
Operating Temp.
-40 ~ 85°C
Storage Temp.
-45 ~ 105°C, 5 ~ 95% RH
Input Voltage
DC 5 ~ 36V
Working Current

95mA (aver) @ 5V

45mA (aver) @ 12V

Power
<1W
More
Certificate
CE, FCC, ROHS, KCC and WEEE pending
Warranty
2 years
Accessory
12V power supply, serial line, cable, converter
Write Review
Your Name:
Your Review:
Note:

HTML is not translated!
Rating:
Bad
Good
Enter the code in the box below: