Industrial Serial UART to Wifi Module with TI CC3200 Chip



Click to enlarge

| | |
| --- | --- |
| Price: | $8.50 |
| Availability: | In Stock |
| Model: | USR-C322 |
| Manufacturer: | USR IOT |
| Average Rating: | Not Rated |



Unique Features
1.Adopt TI CC3200 solution
2.Industrial level
3.Low power for standby 3.5mA, deepsleep 25uA
4.Working voltage range from -40~85 degree
CC3200 Wifi Module Download
User Manual: USR-C322
Evaluation Kit: USR-WIFI-3*1-EVK
Client Support Center: submit your ticket at h.usriot.com If you have technical problems about the product.
CC3200 Wifi Module Introduction
This is a uart to wifi module,used for data transparent transmission.USR-C322 is a wifi module released by USR IOT,which has the features of minisize,low power and industry-grade.The hardware of USR-C322 wifi module integrates MAC,baseband chip,RF transceiver unit and power amplifier.
USR-C322 wifi module is based on TI CC3200 chip,which has industrial ARM Cortex-M4 core and ultra-low power operation mechanism.And it supports WiFi protocol and TCP/IP protocol. User can achieve the function of UART devices connecting to Internet with simple configuration.
CC3200 Wifi Module Features
Support Wi-Fi@2.4 GHz 802.11 b/g/n wireless standards
Based on ARM Cortex-M4 kernel, running frequency of 80 MHZ
Support Simplelink/usrlink networking configuration
Support custom webpage function
High-speed UART: Max baud rate of 3M bps (with specific firmware and opening the flow control; In this firmware, the module only can work in transparent transmission mode)
The fully integrated serial to wifi TCP/UDP transmission function,the rate of serial port up to 3M bps
Support 2 uart and 3 socket communication
DHCP, DNS, Websocket, HTTPD Client function availiable
PC1 16 bytes encryption when work in transparent transmission mode
Support SSL Client function
Can search in local area network (LAN) and wireless parameters setting function
Support TCP/UDP Client registration packet mechanism
Support class RFC2217 automatic baud rate adaptation function
Supports 485 transmission control
Support AT+ simple instruction set configuration
Internal/external antenna option
Minisize: 18.22mm*26.65mm*2.8mm SMT
CC3200 Wifi Module Parameters
Category

Parameter

Value

Wireless Parameters

Certification

CE, FCC, ROHS, WEEE

Wireless Standard

802.11 b/g/n

Transmit Power

17.0 dBm @ 1 DSSS
17.25 dBm @ 11 CCK
13.5 dBm @ 54 OFDM

Receive Sensitivity

–94.7 dBm @ 1 DSSS
–87.0 dBm @ 11 DSSS
–73.0 dBm @ 54 OFDM

Antenna

External: I-PEX connector
Internal: on-board antenna
Hardware Parameters

Data Interface

UART

Operating Voltage

3.0~3.6V

Operating Current

AP: 70mA
STA: 18mA
Peak: 247mA

Operating Temp.

-40 ~ 85°C

Storage Temp.

-40 ~ 125°C, 5 ~ 95% RH

Size

18.22mm*26.65mm*2.8mm

External Interface

SMT
Software Parameters

Wireless Network Type

STA/AP

Security Mechanism

WEP-A / WPA-PSK / WPA2-PSK

Encryption Type

WEP64 / WEP128 / TKIP / AES

Update Firmware

Local WiFi

Network Protocol

IPv4, TCP, UDP, DHCP, DNS, HTTP, ARP, ICMP

User Configuration

Built-in webpage
Serial AT command
Network AT command
CC3200 Wifi Module Image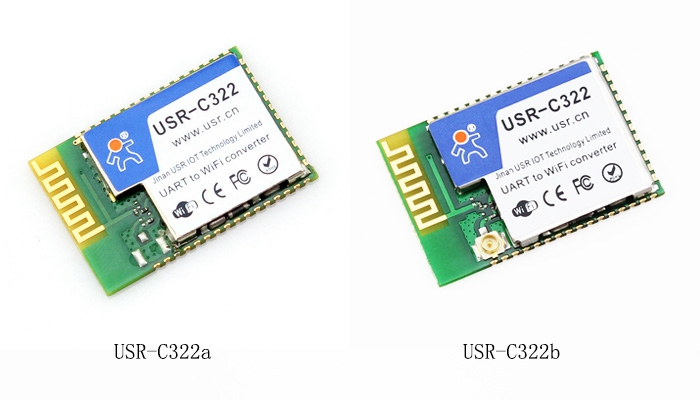 Write Review
Your Name:
Your Review:
Note:

HTML is not translated!
Rating:
Bad
Good
Enter the code in the box below:

There are no additional images for this product.