USR-G800V2 Industrial WIFI 4G LTE Router with 4 LAN Ports/RS232 to 4G



Click to enlarge

| | |
| --- | --- |
| Price: | $150.00 |
| Availability: | In Stock |
| Model: | USR-G800V2 |
| Manufacturer: | USR IOT |
| Average Rating: | Not Rated |




Buy it now

include $25 shipping cost.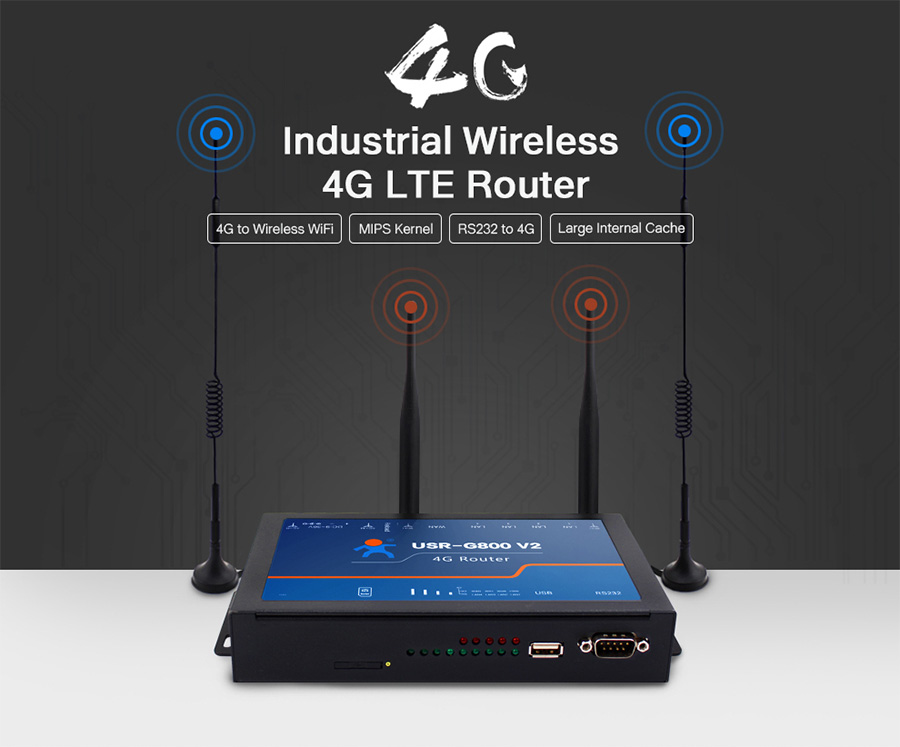 Cellular wireless routers USR-G800 V2 with MIPS kernel. USR-G800 V2 support FLASH-128Mbits, DDR2-1Gbits.
It has two WIFI antenna and two 4G antenna to keep the signal stable and coverage wide.
Cellular wireless routers USR-G800 V2 support data transmission between RS232 to 4G. 10.100M Ethernet port which allows the customers to deal with various industrial scenarios and easily connect to the Internet.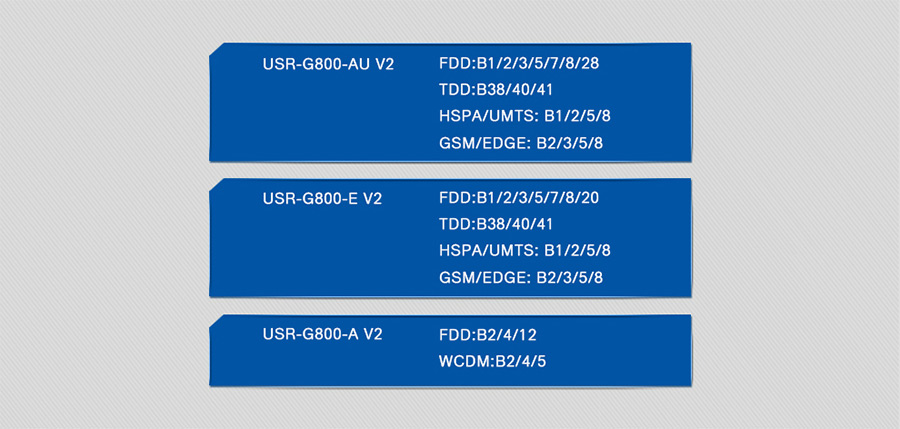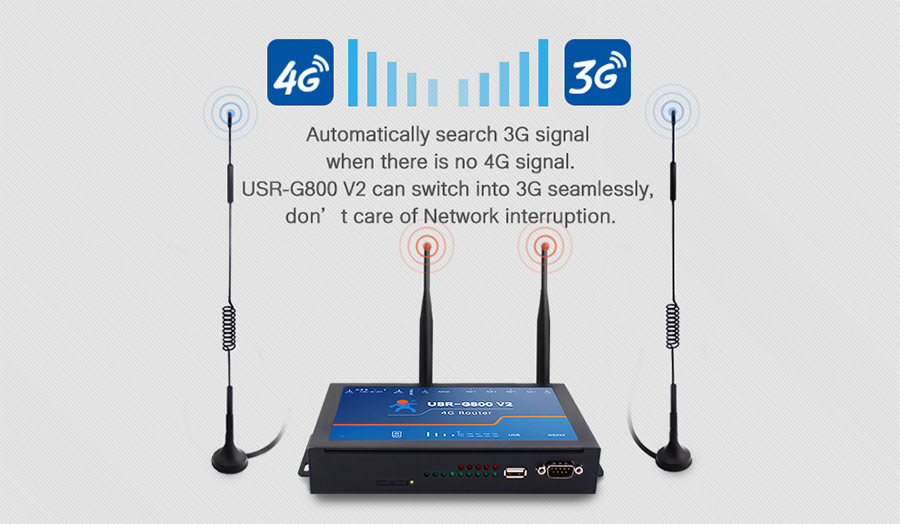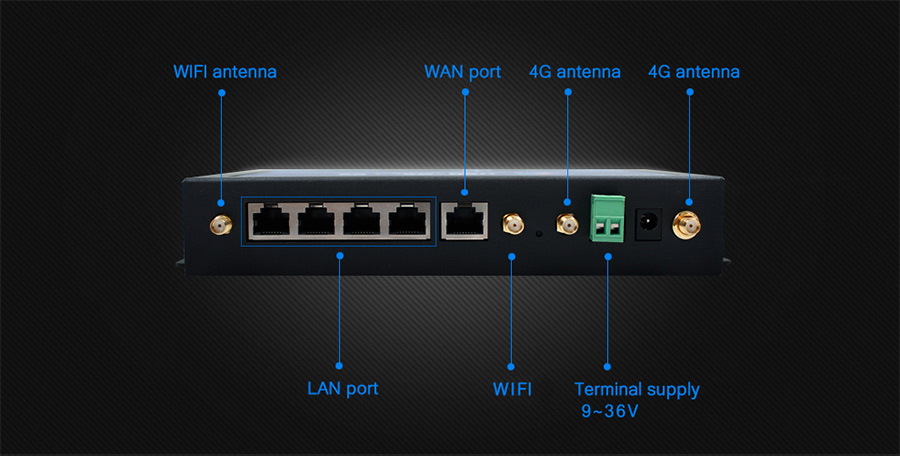 4G Card Slot: Self-locking card slot. Usim card, APN card, and IoT card can be used in Cellular wireless routers USR-G800 V2. It supports APN private network setting. Priority network can be set when Ethernet and 4G are connected at the same time.
RS232 Serial Port: Data transmission between RS232 and Ethernet. Cellular wireless routers USR-G800 V2 can work as TCP Server/TCP Client/UDP Server/UDP Client.
Indicator Light: There are 14 LED lights to show the status of LAN, WAN, 4G network, WiFi and so on.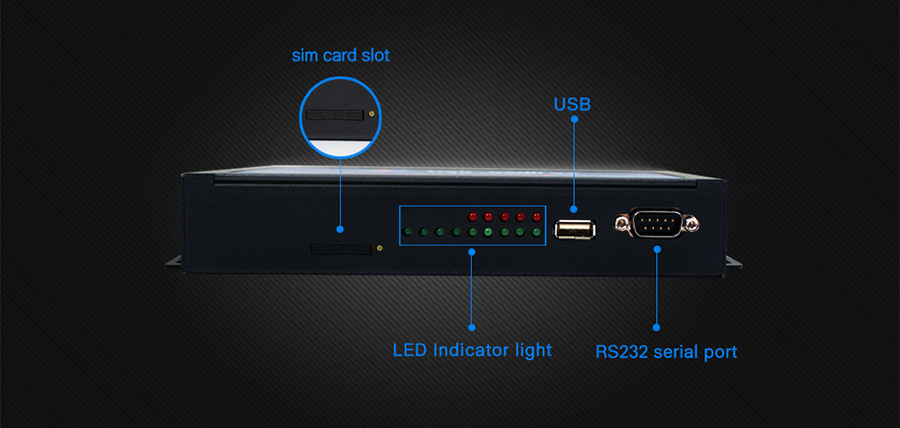 Cellular wireless routers with 5 Ethernet Ports:
1*WAN Port: support DHCP, static IP, ADSL(PPPoE) dial, VPN.
4*LAN Port: support DHCP and static IP.
Power: DC9~36V supply power and terminal supply power.
Reload: One key to restore factory Settings, do not worry about setting errors.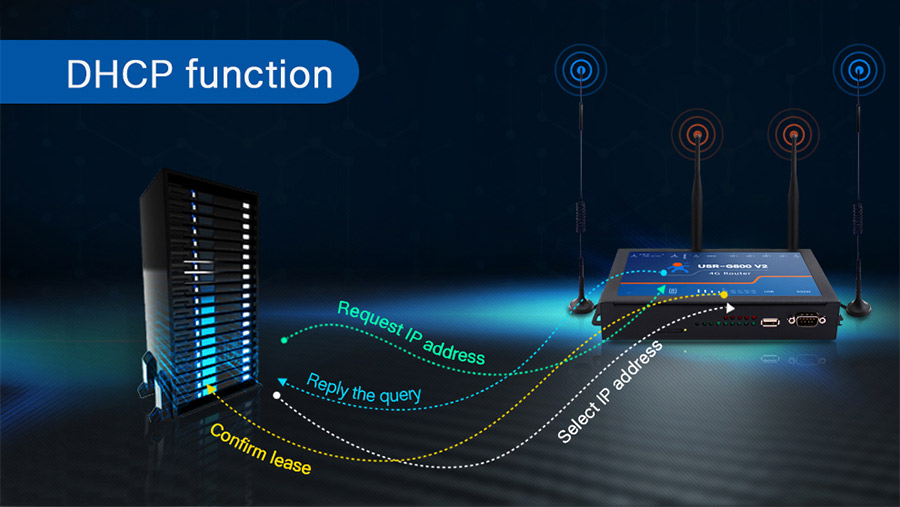 Both WAN port and LAN port supports DHCP function(Enabled by default ).
All network device accessing to LAN port can get IP address automatic.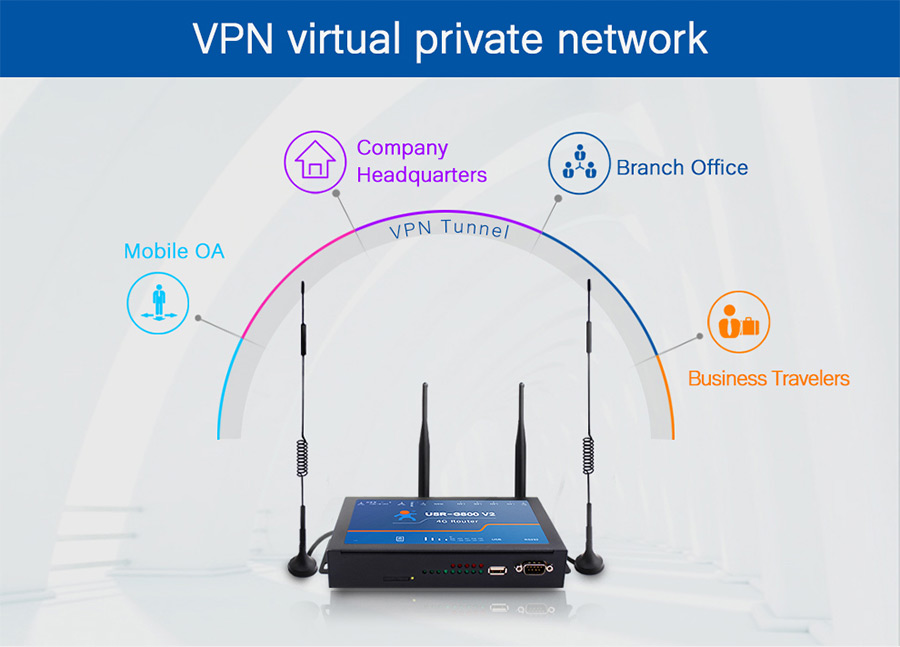 VPN virtual private network
Cellular wireless routers USR-G800 V2 can establish a virtual private network on the public network for encrypted communication.
This allows mobile employees, remote employees and branch office workers to connect to enterprise networks using locally available high-speed broadband networks,
while VPNS provide a high level of security and protect data from prying eyes using advanced encryption and identity protocols.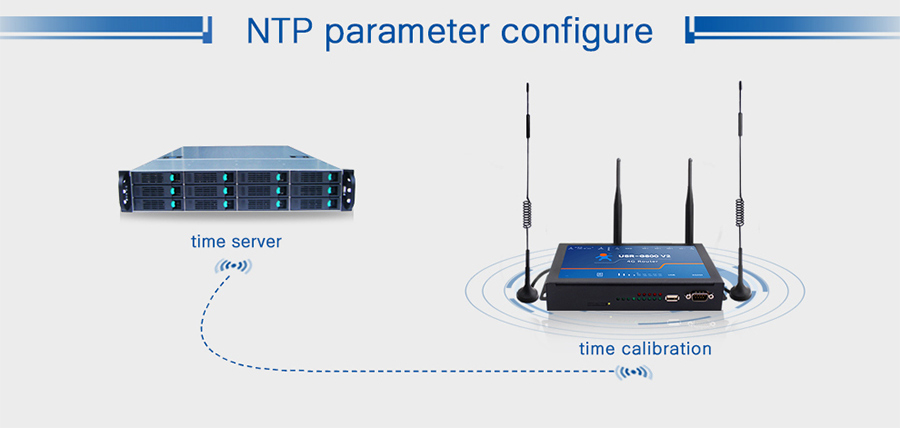 Cellular wireless routers G800 V2 support NTP. Default open NTP client, configure the NTP server address sometimes.
Cellular wireless routers USR-G800 V2 support port mapping from network port to intranet port.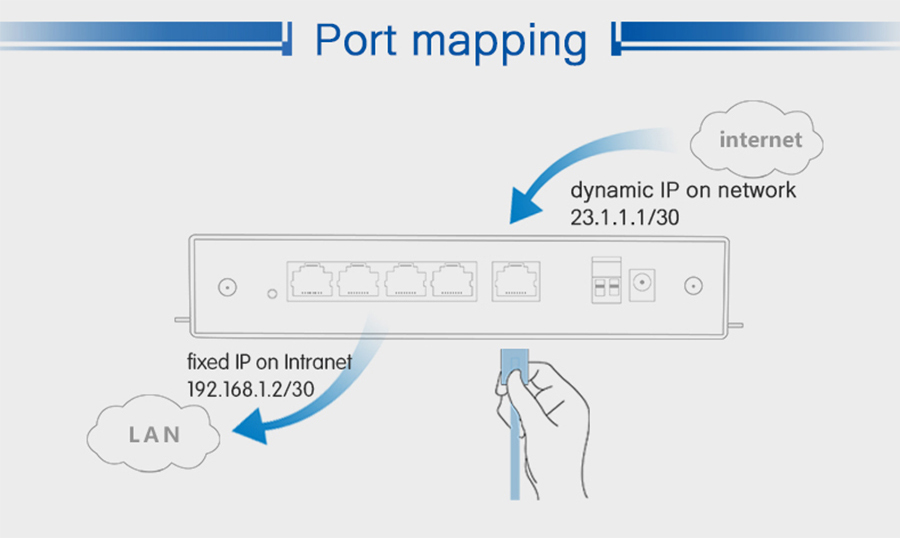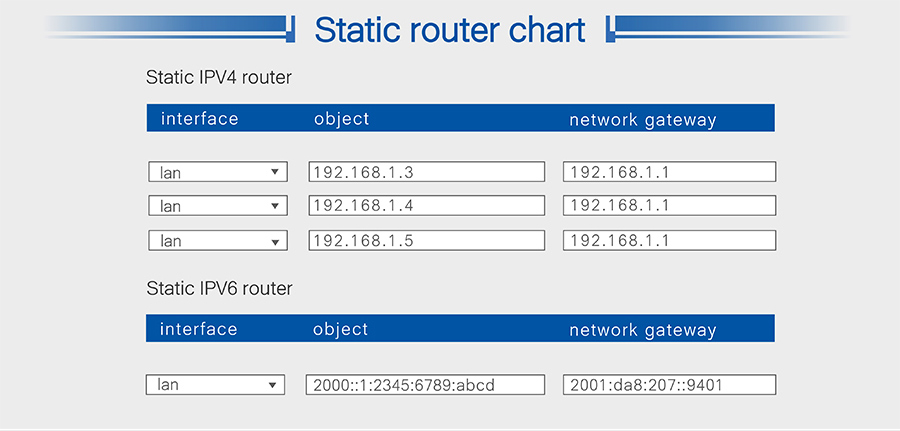 USR-G800 V2 provides static router tables.
The static router table can be set manually to specify the connection path of the fixed IP address for LAN port and WAN port of the router to ensure the convenience of operation.
USR-G800 V2 supports several parameter management methods like WEB、SSH, support upgrade in the web.
Provide parameter backup and import,System local log and remote log send and other functions.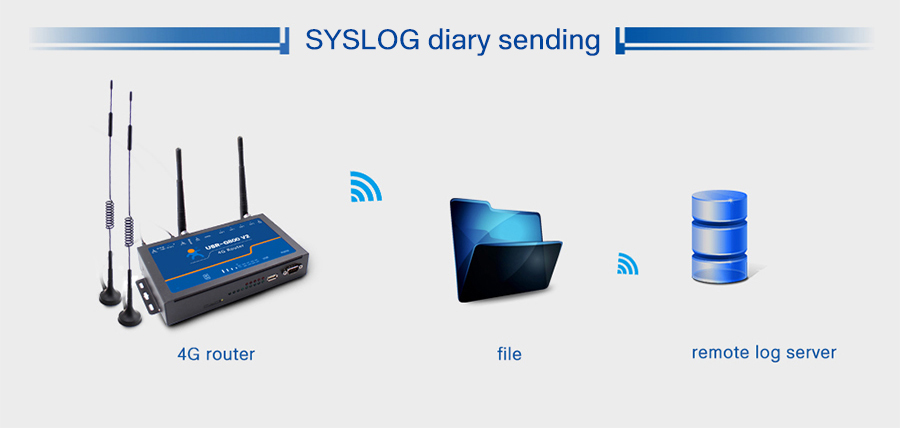 Cellular wireless routers G800 V2 provide SYS diary and remote diary sent to remote LOG server to monitor the network.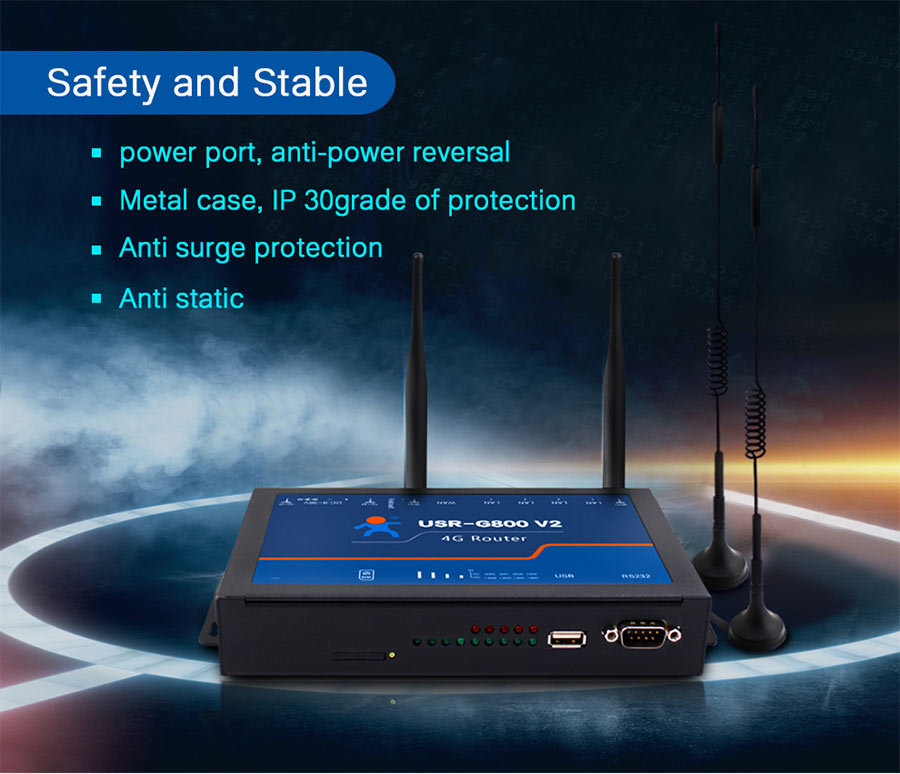 USR-G800 V2 uses a high-performance MIPS kernel with a metal shell protection rating of IP30.
It supports terminal-supply power, the working voltage is 9~36V and supports anti-power reversal, anti-surge protection, anti-static and so on.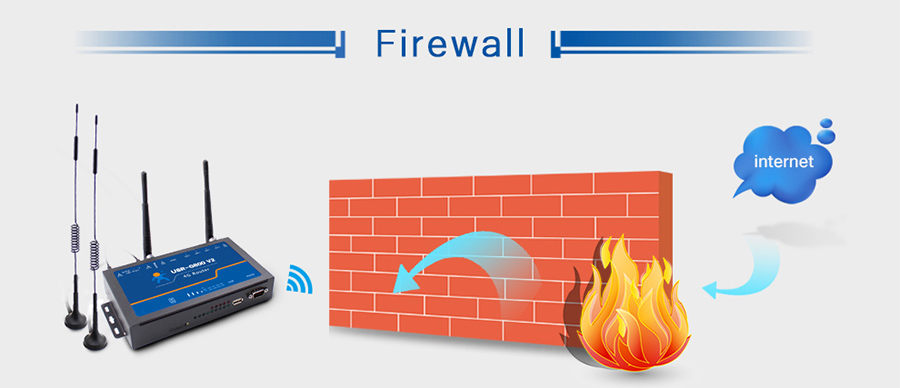 USR-G800 V2 has excellent security performance and provides firewall protection, which improves the security of network and reducing risks.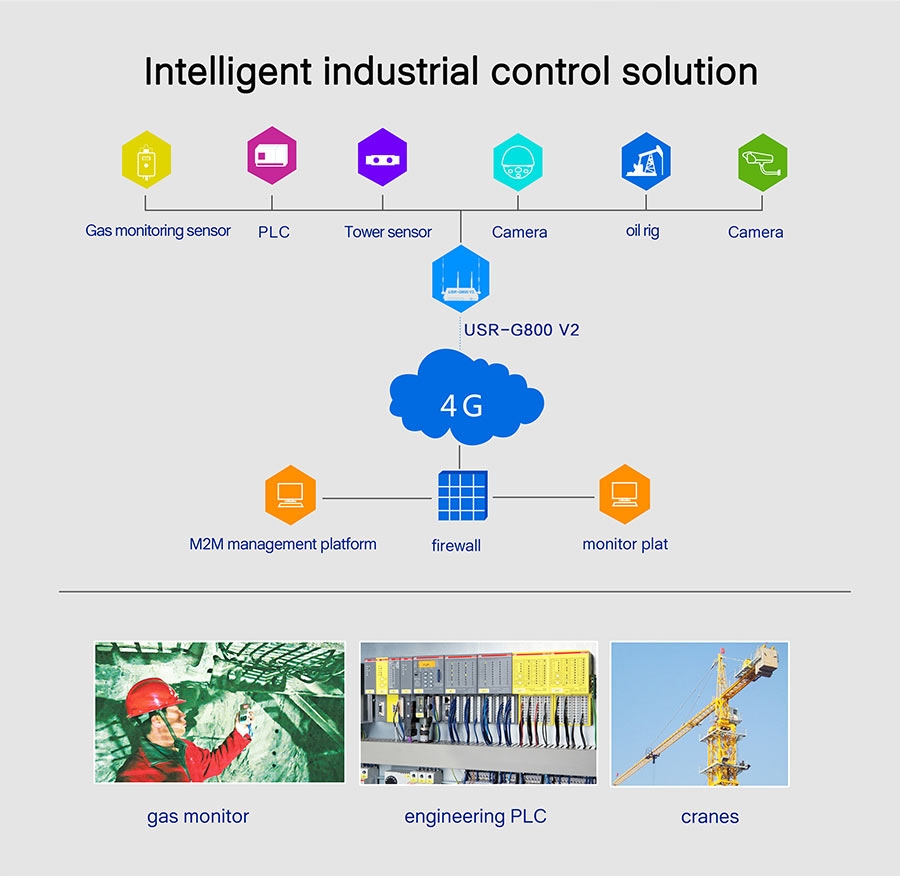 Wired Ethernet Port
WAN port
WAN *1
LAN port
LAN *4
Both LAN port and WAN port with a rate of 10/100Mbps,Auto MDI/MDIX
WIFI
WIFI Network
Support 802.11b/g/n
Antenna
WIFI antenna *2
Specification
Interface
Mini PCI-E 52PIN
TD-LTE
3GPP R9: download rate of 150 Mbps; Upload rate of 50 Mbps
FDD-LTE
3GPP R9: download rate of 150 Mbps; Upload rate of 50 Mbps
WCDMA
HSPA+: download rate of 21 Mbps; upload rate of 5.76 Mbps
TD-SCDMA
3GPP R9: download rate of 2.8 Mbps; upload rate of 2.2 Mbps
GSM/GPRS/EDGE
Download rate of 384 kbps; upload rate of 128 kbps
Frequency Band
TD-LTE
Band 38/39/40/41
FDD-LTE
Band 1/3
WCDMA
Band 1/8
TD-SCDMA
Band 34/39
GSM/GPRS/EDGE
Band 3/8
SIM card&Antenna
SIM/USIM Card
Standard 6 pin SIM card, 3V/1.8V SIM card
Antenna
3/4G full-frequency antenna * 2
Key
Reload
A key to restore factory settings
Indicator light
Status indicator light
Power,WIFI,4G,WAN*1,LAN*4
Serial
RS232
DB9 pin male;
Data transparent transmission between RS232 and 4G network
Temperature
Working Temp
-20°C~ +70°C
Storage Temp
-40°C~ +75°C
Humidity
Working Humidity
10%~90%
Storage Humidity
5%~90%
Power Supply
Working Voltage
DC9~36V
Working Current
Average: 170mA; Max: 289mA (DC12V)
Write Review
Your Name:
Your Review:
Note:

HTML is not translated!
Rating:
Bad
Good
Enter the code in the box below: