SMT Serial UART to GSM GPRS Module



Click to enlarge

| | |
| --- | --- |
| Price: | $6.50 |
| Availability: | In Stock |
| Model: | USR-GM3 |
| Manufacturer: | USR IOT |
| Average Rating: | Not Rated |




Buy it now

include $25 shipping cost.
Introduction of Low Power GSM GPRS Modules
Low power GSM GPRS modules USR-GM3 are used for data transparent transmission. USR-GM3 is highly-integrated UART to GSM/GPRS module. Users can easily make communication with it among serial device, cellphone and network device. USR-GM3 is an embedded GSM module. It is designed for embedded system, and it is so small and convenient that you can integrate it to your system easily.
Features of Low Power GSM GPRS Modules
Small and completed function GPRS DTU, transmission between serial and GPRS
Support GSM850/900,DCS1800/1900
Support GSM/GPRS and 2G/3G/4G card, but don't support 3G/4G network
Support 2 sockets, Support TCP and UDP
4KB cache for each of sockets, user can choose to cache data or not
Support register packet and heartbeat packet
Support setting parameters via SMS message
Support 3 work modes: SMS transmission mode, network transmission mode and httpsD mode
Support basic and extend AT command sets
Support class RFC2217, can dynamically modify serial parameter of module via network
Support flow control: RTS/CTS
Support RS485
Function of Low Power GSM Modules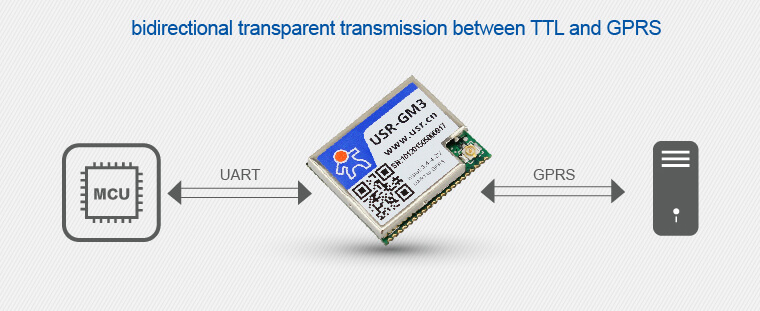 Structure of Low Power Gsm Modules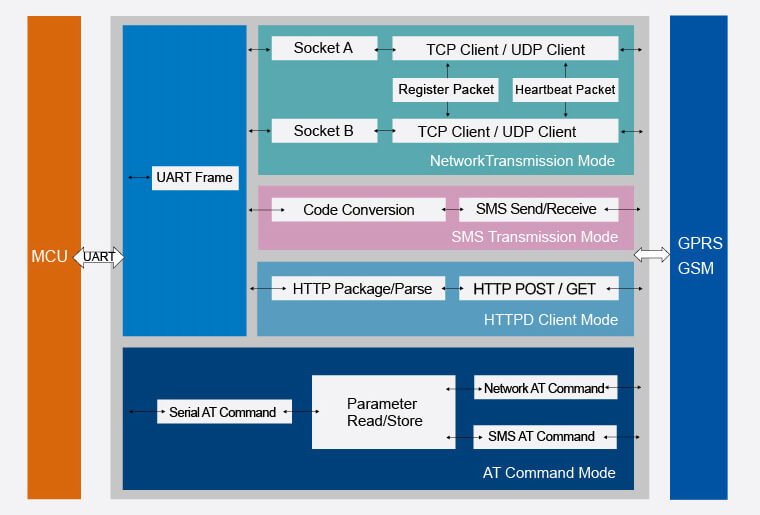 Features of Low Power GSM Modules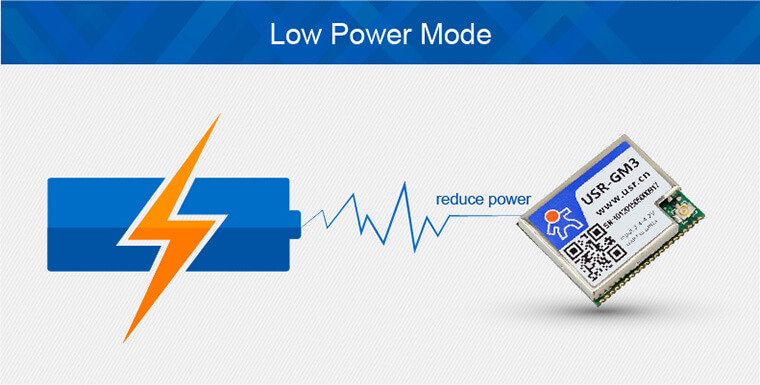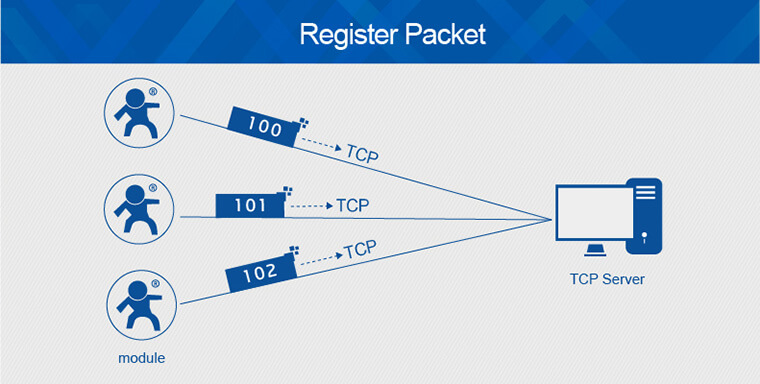 When USR-GM3 module works as TCP CLIENT, and after TCP connection is established, module will automatically send scheduled register packet to help TCP Server identify the TCP connection.
Register packet includes IMEI code, ICCID code and user-defined register data.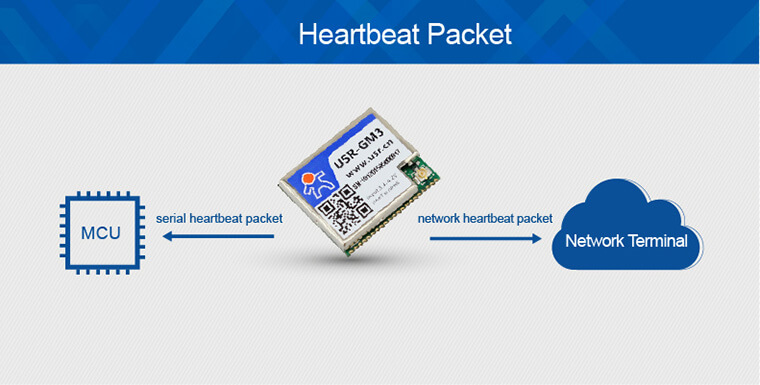 USR-GM3 GPRS module can send heartbeat packet to network server and serial device in network transmission mode.
GPRS module maintains the normal connection with server by keeping sending serial heartbeat packet.
Serial heartbeat packet is mainly applied to sensors which can not actively send data to server. And serial heartbeat packet can realize real-time monitoring of sensor device.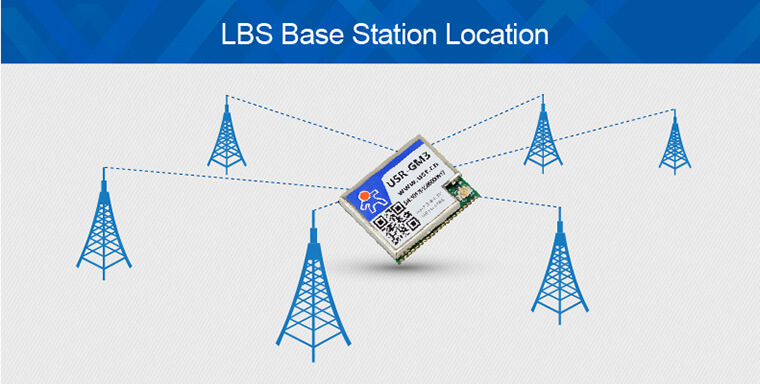 LBS base station location can get location information of USR-GM3 by mobile network.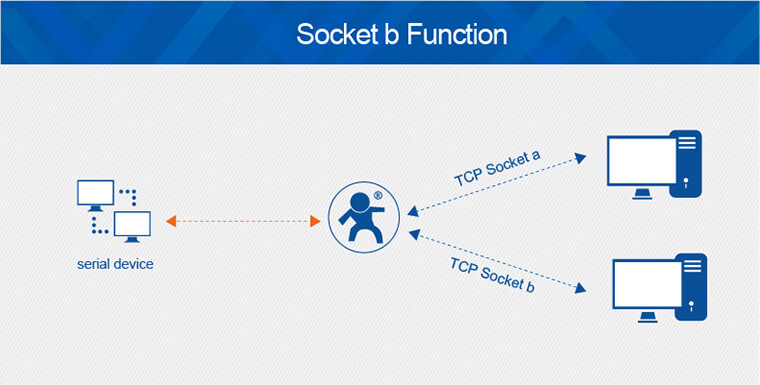 Socket b function is suitable for such requirements as sending data to two servers, data backup and remote abnormity diagnosis.
USR-GM3 connects with FTP server to remotely upgrade user's devices such as charging pile, instruments and remote POS machine. Only custom firmware has this function.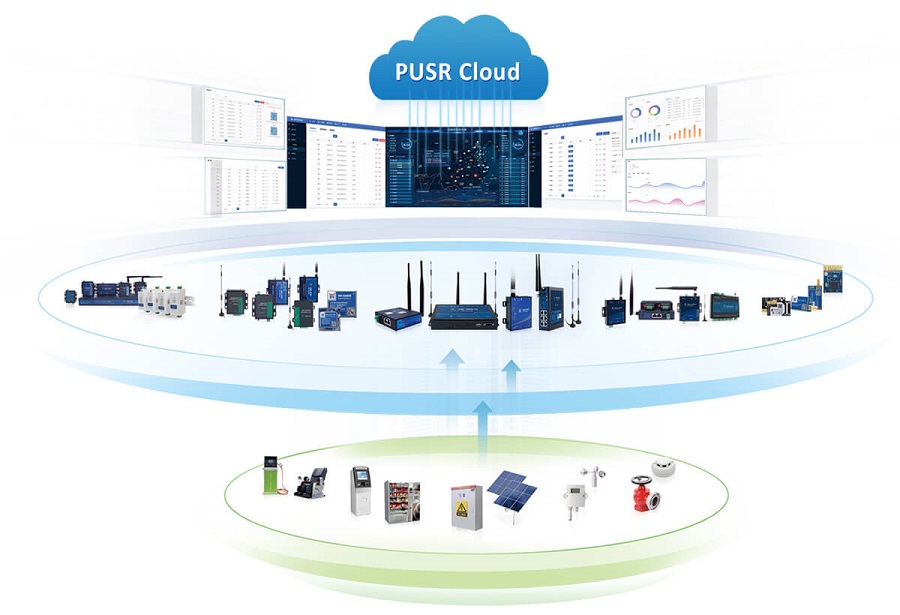 Application Field of Low Power Gsm Modules
Agricultural IOT Environment Monitoring Solution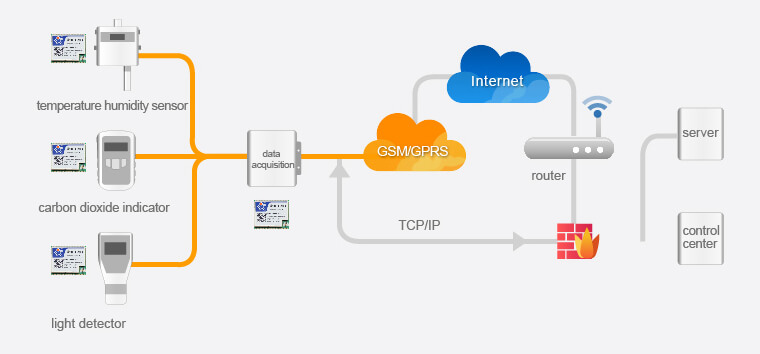 Charging Pile Data Real-time Transmission Solution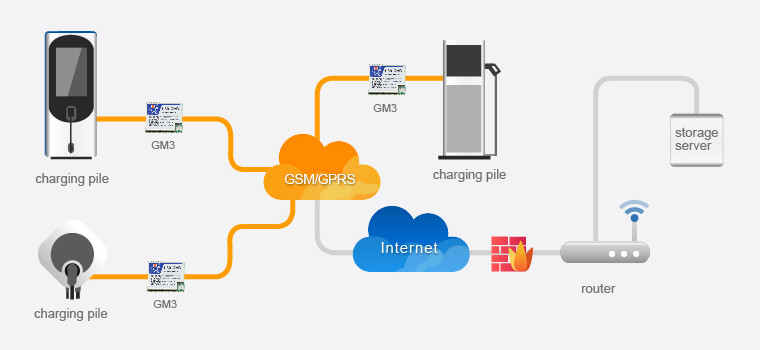 City Bus Real-time Data Acquisition Solution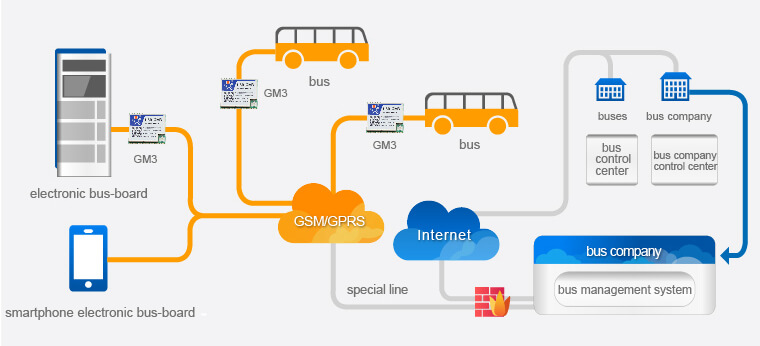 Remote POS Online Payment Solution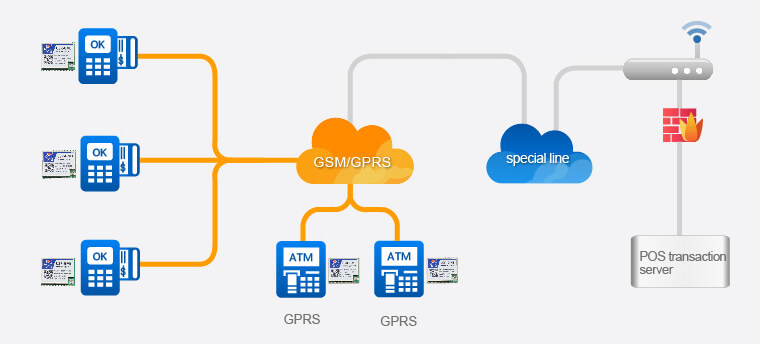 Network
Standard
GSM / GPRS
Rate
14.4 Kbps ~ 57.6 Kbps
Standard Frequency Range
850/900/1800/1900MHz
GPRS Multi-slot Class
GPRS Class 10
GPRS Terminal Device Class
Class B
GPRS Coding Schemes
CS1 ~ CS4
Max Launch Power
GSM900 class4 (2W), DCS1800 class1 (1W)
Application
GSM standard AT instruction set / USR extension AT instruction set / data transmission / SMS transmission / HTTPD
Network Protocol
TCP,UDP,DNS,Http
Network Buffer
Send: 4K bytes, receive: 4K bytes
Serial
Port Number
1
Interface Standard
TTL: SMT 2.8 ~ 3.6 V
Data Bits
7,8
Stop Bit
1,2
Check Bit
None,Even,Odd
Baud Rate
2400 bps ~ 921600 bps
Flow Control
CTS/RTS
Buffer
Send and receive 4k bytes respectively
Device Interface
SIM Card
1.8V / 3V
Speech Interface
1 channel MIC input, 1 channel SPEAK output
Software
Virtual Serial(USR-VCOM)
Windows 2000 or higher(32 bit/64 bit)
Configuration
Serial AT command, sms AT command, network AT command
Basic Parameter
Size
27.9 x 24 x 3 mm
Operating Temp.
-25 ~ 85°C
Storage Temp.
-40 ~ 125°C, 5 ~ 95% RH(no condensation)
Input Voltage
DC 3.4 ~ 4.2V, recommend: 3.8V
Working Current
Average: 55 ~ 90mA; Max: 750mA
More
Warranty
2 years
Accessory
null
Write Review
Your Name:
Your Review:
Note:

HTML is not translated!
Rating:
Bad
Good
Enter the code in the box below: