Serial UART TTL to Ethernet Module



Click to enlarge

| | |
| --- | --- |
| Price: | $11.00 |
| Availability: | In Stock |
| Model: | USR-TCP232-T2 |
| Manufacturer: | USR IOT |
| Average Rating: | Not Rated |




Buy it now

include $25 shipping cost.
Unique Features
1.Support DHCP and DNS
2.Support built-in webpage
3.Support HTTPD Client
4.Upgrade firmware via network
Serial Ethernet Module Download
User Manual: USR-TCP232-T2
Evaluation Kit : USR-TCP232-EVB
Client Support Center: submit your ticket at h.usriot.com If you have technical problems about the product.
Serial Ethernet Module Introduction
USR-TCP232-T2 is a tiny size serial Ethernet module which can realize data bidirectional transparent transmission between TTL and RJ45 Port. It can also be applied in RS232/ RS485 by level shift circuit.USR-TCP232-T2 is based on Cortex-M0 core. It has characters of low power, fast speed and high efficiency.
Serial Ethernet Module Feature
Set parameters through webpage, software and serial AT command
Auto-MDI/MDIX, RJ45 port with 10/100Mbps
Serial port baud rate from 600 bps to 460.8 Kbps, Check bit of None,Odd,Even,Mark and Space
Work mode: TCP Server, TCP Client, UDP Client, UDP Server, HTTPD Client
Support virtual serial port and provide corresponding software USR-VCOM
Heartbeat package mechanism to ensure connection is reliable, put an end to dead link
User-defined registration package mechanism, check connection status and use as custom packet header
Under TCP Server mode, Client number ranges from 1 to 16; default number is 4
The global unique MAC address bought from IEEE, user can define MAC address
Restore factory default
Across the gateway, switches, routers
Can work in LAN, also can work in the Internet (external network)
Provide PC TCP/IP socket programming example such as VB,C++,Delphi,Android and IOS
Serial Ethernet Module Parameter
| | |
| --- | --- |
| Parameter | Value |
| Input Voltage | VCC 3.3V / VDD 5V |
| Current | 150mA |
| Size | 55 x 22.6 x 23.1 mm |
| Operating Temp. | -25 ~ 75°C |
| Storage Temp. | -40 ~ 105°C, 5 ~ 95% RH |
| Interface | TTL UART *1 |
| Packing list | USR-TCP232-T2 *1 |
Serial Ethernet Module Image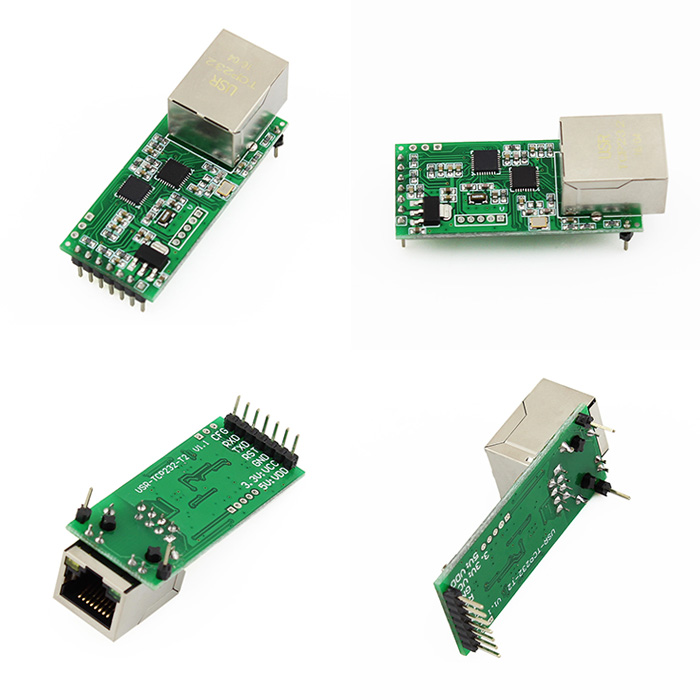 System Information
Processor
ARM
Flash
32K byte
Ethernet
Port Number
1
Interface Standard
RJ45
Rate
10/100 Mbps, MDI/MDIX, auto switch between cross and direct connection
Protection
2KV electromagnetism isolation
Network Protocol
IP, TCP, UDP, DHCP, DNS, HTTP, ARP, ICMP
Buffer
Send: 6K bytes, receive: 4K bytes
Serial
Port Number
1
Interface Standard
TTL
Data Bits
5, 6, 7, 8
Stop Bit
1, 2
Check Bit
None, Even, Odd, Space, Mark
Baud Rate
600 bps ~ 460.8 Kbps
Flow Control
Null
Buffer
Receive: 800 bytes
RS-485 Pull-up and Pull-Down Resistor
Null, reserved 485 send-receive control pin
Software
Virtual Serial(USR-VCOM)
Windows 2000 or higher (32 bit/64 bit)
Configuration
computer set-up software, serial command, built-in webpage, AT command
Basic Parameter
Size
50.5 x 22.6 x 15.0 mm
Operating Temp.
-25~ 75°C
Storage Temp.
-40 ~ 105°C, 5 ~ 95% RH
Input Voltage

VCC DC 3.0V~3.6V

VDD DC 4.75~7.0V

Working Current

150mA (aver) / 160mA (max) @3.3V

150mA (aver) / 160mA (max) @5V

Power
<1W
More
Warranty
2 years
Accessory
Null
Write Review
Your Name:
Your Review:
Note:

HTML is not translated!
Rating:
Bad
Good
Enter the code in the box below: