8 Serial Ports to Ethernet Converter supports SSL Client



Click to enlarge

| | |
| --- | --- |
| Price: | $152.00 |
| Availability: | In Stock |
| Model: | USR-N668 |
| Average Rating: | Not Rated |




Buy it now

include $25 shipping cost.
Notes: This price does not include power supply, network cables, convertors
8 Serial Port RS232 RS485 RS422 to Etherent Converter
USR-N668 is a RS232 / RS485 /RS422 to Ethernet server for remote access serial devices. It can realize data bi-directional transparent transmission between Ethernet and RS232/RS485/RS422 ports.
Variety of serial ports is convenient for customers to use. It also supports AC 220V power supply. Using ARM preofessor makes it low power consumption, fast and more stabliity.
Supports SSL Client.
Key Character of 8 Serial Ports Etherent Serial Converter
- 8 Serial Ports in RJ45 Ethernet Format. All can be worked as RS232 or RS485 or RS422
- Supports SSL Client
- Modbus Gateway: Modbus RTU to TCP, Modbus Polling
- Network tiem synchronization +RTC real time clock
- Two Sockets
Feature of 8 Serial Port to Ethernet Converter
Ø Two 10/100Mbps Ethernet port, support Auto-MDI/MDIX.
Ø 8 serial ports in RJ45 format. All support RS232/RS485/RS422.
Ø Support Static IP or DHCP.
Ø TCP Server, TCP Client, UDP Client, UDP Server, HTTPD Client , SSL Client
Ø 8 serial ports all support two sockets ,and all can send data to two different servers when work as Client.
Ø It works as TCP client, supports to 16(max) TCP Client.
Ø Keep-alive & Registration-package.
Ø Modbus TCP to Modbus RTU.
Ø User-defined overtime Reload (no data reload)and overtime connection.
Ø The modifiable , one and only MAC.
Ø DNS domain name resolution ,user-defined DNS server address.
Ø Remote monitoring and remote firmware upgrading.
Ø Network time synchronization +RTC real time clock.
Ø User-defined Task Scheduler.
Ø Supports web server configuration.
Ø Supports V-COM.
Ø Reload by hardware and software.
Ø Run across gateways, switches and routers.
Ø Work in LAN or external network.
Packing List
Serial Port is in the format of RJ45 Port
Pack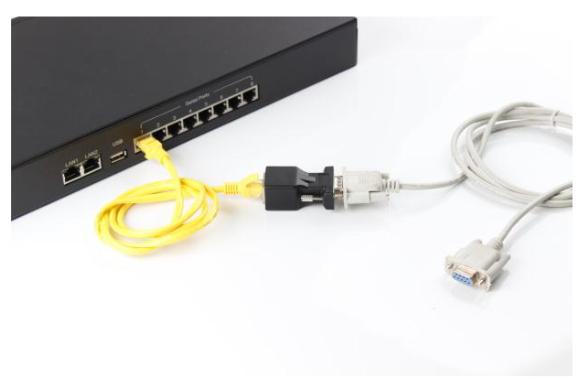 Working Modes of Serial to Ethernet Converter
1) TCP Client Mode: Client connects Server automatically. User should configure the TCP Server's IP address and Port.
2) TCP Server Mode: The Max Client number is 8.
3) UDP Client Mode: serial data will be sent to a fix IP address/port which you appointed.
4) UDP Server Mode: serial data will be sent to last source IP/Port
5) SSL Client: Special Firmware
Application of Serial to Ethernet Converter
Building intelligent devices with remote control capability. You can use USR RS232 RS485 to Ethernet converter into any electronic product for applications as below:
Industrial automation control for data transmission
Remote diagnostics, record and troubleshooting
Security monitoring, CCTV, entrance guard system, Building automation system
Power management
Environmental monitoring, temperature and humidity monitoring
Logistic transportation supervision and location
class="content" style="border-collapse: collapse; border-color: #DDDDDD; margin-top:10px;"
Item

Parameters

Value

Hardware

Work Voltage

AC 85~265 V,50/60Hz

Power Consumption

1.6W

Ethernet

RJ45、10/100Mbps

Number of Ethernet Port

2

Serial Port Format

RJ45

Number of Serial Port

8 Ports

Baud Rate

300-115.2K(bps)

Software

Network Protocol

IP、TCP/UDP、ARP、ICMP、IPV4、HTTP

IP

Static IP、DHCP

DNS

Supports user defined

Configuration

Software, Webpage, AT command

Transparent transmission

TCP Server/TCP Client/UDP Server/UDP Client/ Httpd Client

Class RFC2217

Support

Network Cache

10Kbyte

Serial port Cache

10Kbyte

Average transmission delay

>=50ms

Software

VCOM、Setup Software, Test program

Packaging mechanism

50ms packing time, 1472 bytes packing length

Others

Certificate

CE/RoHs

Reliability grade

EN61000-4-2(static electricity) Grade 4

EN61000-4-4(pulse group) Grade 4

EN61000-4-5(surge) Grade 3

Shell Protection

IP30

Size

482*185*45 MM

Work Temp

-40~85℃

Storage Temp

-40~105℃

Work Humidity

5%~95% RH

Storage Temp

5%~95% RH
Write Review
Your Name:
Your Review:
Note:

HTML is not translated!
Rating:
Bad
Good
Enter the code in the box below: