Serial UART TTL Wifi Module with External Antenna



Click to enlarge

| | |
| --- | --- |
| Price: | $10.00 |
| Availability: | In Stock |
| Model: | USR-WIFI232-B2 |
| Manufacturer: | USR IOT |
| Average Rating: | Not Rated |




Buy it now

include $25 shipping cost.
Introduction of UART WiFi Modules USR-WIFI232-B2
USR-WIFI232-B2 are UART WiFi Modules, embedded serial to 802.11 b/g/n WiFi modules with external antennas. UART WiFi Modules USR-WIFI232-B2 connect traditional serial devices and MCU controlled devices with WiFi network to realize control and management. The module has 1 Ethernet port that can realize mutual data transmission among WiFi, serial and Ethernet.
Features of UART WiFi Modules USR-WIFI232-B2
Support 802.11b/g/n wireless standard
Support TCP/IP/UDP network protocol
Support UART/GPIO/Ethernet data interface
Support work as STA/AP/AP+STA mode
Support router and bridge mode
External antenna
Support transparent transmission mode
Provide AT+ instruction set for configuration
Provide friendly web configuration page
Support heartbeat signal and wifi connection indication
Support UART auto-frame function
3.3V power supply
Max transmission distance: 280 meters (open horizon, 3dbi antenna)
Application Field of UART WiFi Modules USR-WIFI232-B2
WiFi remote control and monitoring, TCP/IP and WiFi coprocessor
WiFi remote control toy such as aircraft and cars
WiFi Internet radio, camera, digital photo frame
Medical instrument, data acquisition, handheld device
WiFi fatness testing machine, smart card terminal, Smart Home
Instrument, equipment parameter monitoring, wireless POS machine
Modern agriculture, military field and other wireless related secondary development applications
Function Chart of Serial to WiFi Modules USR-WIFI232-B2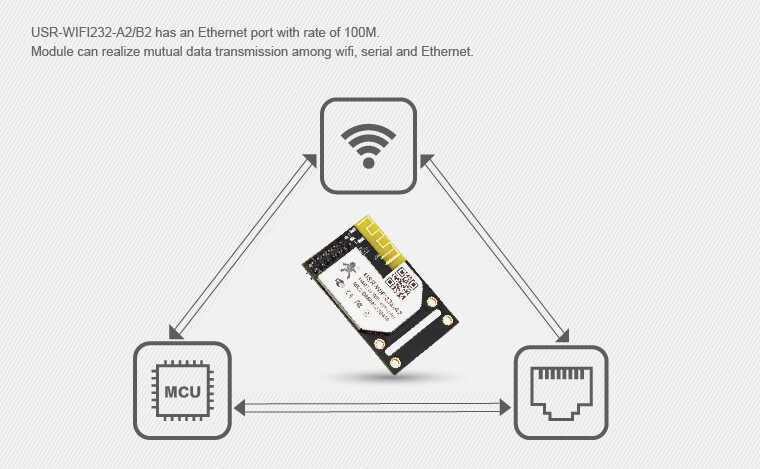 Function Structure of Serial to WiFi Modules USR-WIFI232-B2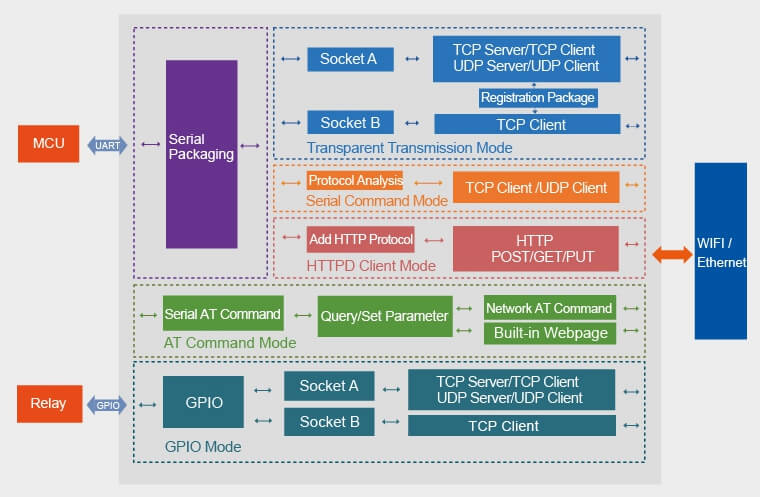 Networking Mode of Serial to WiFi Modules USR-WIFI232-B2
AP Mode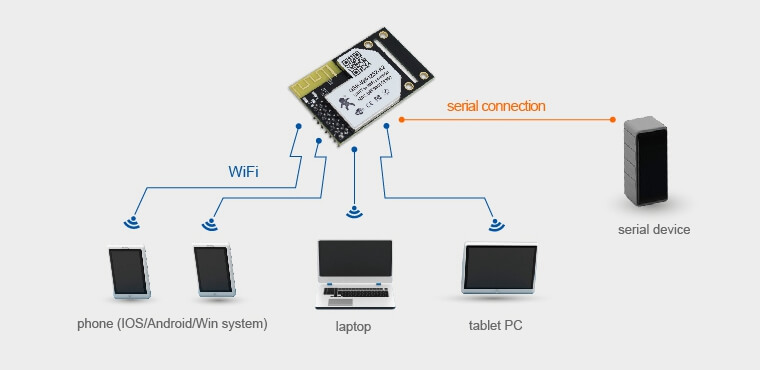 STA Mode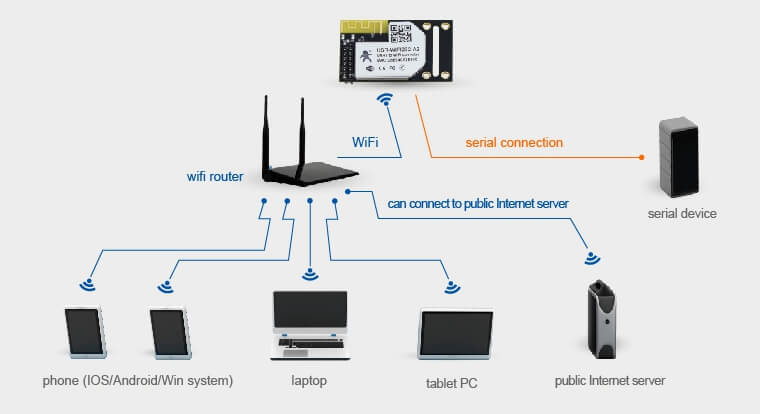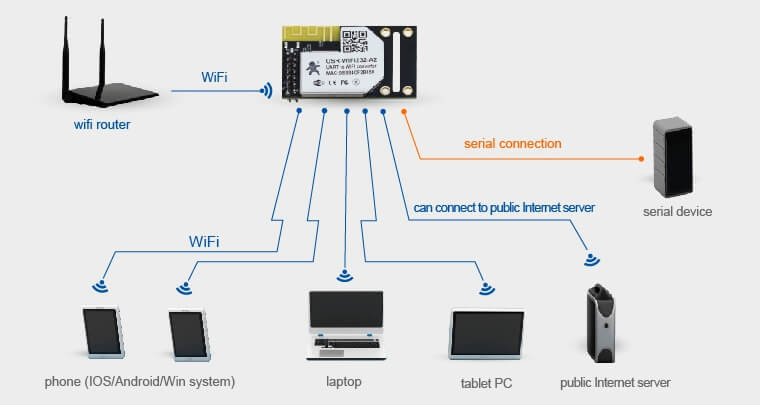 Wireless Parameters
Certification
FCC/CE
Wireless Standard
802.11 b/g/n
Frequency Range
2.412GHz-2.484GHz
Transmit Power
802.11b: +20dBm (Max.)
802.11g: +18dBm (Max.)
802.11n: +15dBm (Max.)
Configurable
Receive Sensitivity
802.11b: -89dBm
802.11g: -81dBm
802.11n: -71dBm
Antenna
External: I-PEX connector
Hardware Parameter
Data Interface
UART: 300bps~460800bps
Ethernet: 10Mbps/100Mpbs
GPIOs
Working Voltage
3.3V (+/-5%)
Working Current
AP: 169mA (average), 305mA (peak)
STA: 164mA (average), 197mA (peak)
Working Temp.
-40°C ~ 85°C
Storage Temp.
-40°C- 125°C
Size
25mm x 40mm x8mm
Software Parameter
Wireless Network Type
Station/AP mode
Security Mechanism
WEP/WPA-PSK/WPA2-PSK
Encryption Type
WEP64/WEP128/TKIP/AES
Work Mode
Transparent transmission mode, serial command mode
Setting Command
AT+ instruction set
Network Protocol
TCP/UDP/ARP/ICMP/DHCP/DNS/HTTP
Max. Client Number in TCP Server Mode
32
User Configuration
Web server+AT command config
Client Application Software
Clients can customize application software
Write Review
Your Name:
Your Review:
Note:

HTML is not translated!
Rating:
Bad
Good
Enter the code in the box below: